Introduction
What do we mean by Multiplicity?
It is a noun meaning  "a very large number."  What prompted this topic?  While going through the greatest book of Wisdom, I have severally noticed the miracles done by our great  prophets as well as that done by our great teacher, master and Lord; and decided to share this great knowledge and wisdom derived from it as well as lessons learnt.
Genesis of Multiplicity
We all know that every thing started with the Creator of the universe.  First mention should be credited to the creation during which God said everything created especially the living things should multiply and fill the earth, if sea creatures, they should fill the sea and He saw that everything He has done was good including the creation of Man in His own image whom He also commanded to be fruitful, multiply, replenish the earth, subdue it and have dominion over other creation (Gen.1: 20- 28).  This is the genesis of multiplication and since then it has been in effect for those who obey and do the will of God.
Let's cite some examples of those who have  this spirit of multiplicity
Jesus carried out many miracles but the topic under discussion is what we shall be highlighting here.  His first miracle on multiplicity was  that recorded in Luke 5:1-7.  The bible stated that while He was preaching as a result of the multitude surrounding him, He saw ships/boats at the lake of Gennesaret owned by fishermen who out of frustration of not catching anything  were  washing their nets.  So He entered into one of the boats owned by Simon and asked him to thrust the boat out a little so as to preach from the lake.  After preaching He told Simon to "launch out into the deep and let down his nets for a draught" but Simon knowing how much they suffered toiling all night and caught nothing made it known to Him but said since He has said so, he will let his net down.  And on obeying that word they caught a great multitude of fishes to the extent their nets were torn.
Another Instance of this was after His  Resurrection, Peter and other disciples went a fishing and toiled all night but caught nothing.  Then Jesus appeared to them in the morning as a stranger to ask for meat from them but they replied and said they have caught nothing so He urged them to cast their net on the right side of the ship that they will find.  And when they obeyed these words, verse 6b stated that "They cast therefore, and now they were not able to draw it for the multitude of fishes".  This made them to recognize him instantly.
What about the feeding of  Five thousand people in the wilderness with five loaves of bread and two fishes with surplus left.  Matthew 14:14-21 recorded that Jesus went to a deserted place to rest but when the people saw Him leave by boat they followed Him on foot from city to city.  In fact they outrun him and got to the wilderness He was going to take the rest.  By the time He got to the place, a great multitude awaits Him hence He could not rest but do the work for which He was sent – Preach the word to them and heal those with infirmities.  It was at this point the day was almost gone on them still keenly listening to the words of wisdom when the disciples requested they be sent home to get food for themselves.  But Jesus requested they be seated and fed with whatever they have hence the miracle.
Elijah was another man of God whom God used to cause multiplication in the life of a widow who wanted to eat the last food remaining for she and her child to wait for whatever death will come their way but God sent His servant to the woman and her oil of jar that was remaining never went dry as well as that last food continued to multiply until three years and the half elapsed and food became abundant again in the land. (I Kings 17:9 – 16 referred.); and
Another is Elisha the servant of Elijah.  He was approached by a widow who's late husband's creditors were about to seize her two sons for slavery.  Elisha asked her what she wants him do for her and what does she have?  She told him she has a jar of oil only and he told her to borrow as many empty jars as she could get, close the door and fill up the vessels until there was none left.  She told him of her action and he instructed her to sell them and pay off the debt and to live on the remainder of the proceeds.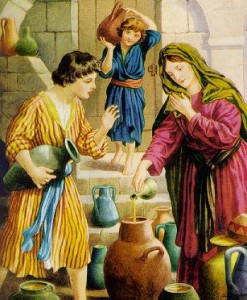 What lessons do we learn from these few examples
Obedience:  From the initial examples cited, we saw total obedience from the fishermen to the point they became disciples of Jesus.  In Elijah and Elisha cases, there was also total obedience of the two different cases.  
What does the Bible tell us about Obedience?   The Bible has so much concerning Obedience to the word of God and hearkening to the voice of His servants/ Ministers.  But before delving into that let's state what obedience is:  Obedience is yielding to God;  simply put, allowing God to totally take pre-eminence or control of you.  You do this by totally submitting all your plans and actions to God and just follow His instructions.
Example, In Genesis 12:1-4a paraphrased: "Now the Lord has said unto Abram, Get thee out of thy country, and from thy kindred and from thy father's house, unto a land that I will show thee: …So Abram departed, as the Lord had spoken unto him;"
What do you think of the above passage, blindly following not knowing where he was going but on a mission which God Himself alone knows and will direct subsequently.  It is a very difficult thing to do but obedience will push you into doing the unthinkable, the unreasonable things to men, things that sometimes people will call the doer stupid, that's the way of God.
Another instance was when he was asked to sacrifice his son Isaac and Abraham took the boy and wood to the place where God instructed him to go and on getting there set up the altar for sacrifice' bounded his son and laid him on the altar.  As he stretched out his hand to slay his son, God halted him through his angels and provided a ram in replacement for the sacrifice of his son and this was counted unto Abraham for righteousness.  (Gen.22:1-18) and God blessed him.
What About Jesus who has to be hanged for committing no wrong; accepting to die on the cross for the salvation of all.  And He continues to state it that He came for this.  See how He endured all that was done to Him, the beatings/scourging; the nails, the thorns on His head, the spear through His side etc.  Isaiah 53: 1 – 9 which says:
Who hath believed our report? and to whom is the arm of the Lord revealed?  For he shall grow up before him as a tender plant, and as a root out of a dry ground; he has no form nor comeliness; and when we shall see him, there is no beauty that we should desire him
He is despised and rejected  of men; a man of sorrows, and acquainted with grief; and we hid as it were our faces from him; he was despised, and we esteemed him not .  Surely he hath borne our griefs and carried our sorrows; yet we did esteem him stricken, smitten of God, and afflicted.  But he was wounded for our transgressions, he was bruised for our iniquities: the chastisement of our peace was upon him; and with his stripes we are healed.  
All we like sheep have gone astray; we have turned every one to his own way; and the Lord hath laid on him the iniquity of us all.  He was oppressed, and he was afflicted, yet he opened not his mouth; he is  brought  as a lamb to the slaughter, as a sheep before her shearers is dumb, so he openeth not his mouth.  He was taken from prison and from judgment, and who shall declare his generation? for he was cut off out of the land of the living; for the transgression of my people was he stricken.  And he made his grave with the wicked, and with the rich in his death; because he had done no violence, neither was any deceit in his mouth.
When we look at the above passage, we could see that He did what had been prophesied of old and in total obedience to the will of God.
Let us see where He was rebuking Peter and other disciples when they came for His arrest as recorded in the gospel according to Matthew 26: 52 through 56  we could see that one of his disciples  struck one of the people that came to arrest him but he rebuked saying put away your sword don't you know I can ask my father to send more than twelve legions of angels.  but if I do that how shall the scripture be fulfilled?
In the previous verses he was praying the father to take away the cup but that if that's the only way His will is to be done, then Let it be. (verses 38 – 42.)
Many passages abound from the old testament to the new where God's children were commanded to obey but due to our disobedient nature God calls us stiff necked people.  We are so stubborn and do those things we chose to do and not what God wants us to do.  Jesus Himself said none is good.
We only live each day by the grace of God.  In keeping and obeying God's promises  brings  so much blessings to us both  physical and spiritual blessings.    Deut.28 covers  both the blessings and curses following obedience and disobedience.  Let us obey and hearken to the voice and or the word of God so that it will be well with our bodies and souls.
2.  Seeking God's kingdom First in all our endeavors:   We saw how it was reported that the crowd saw Jesus departing and followed by foot and as they move cross cities, more people joined and by the time Jesus got to the wilderness where he wanted to go and get some quiet time, the entire place was filled up with multitude of people.  What were they doing, seeking God as to hear his word, to get healing, to be free from their torments and troubles.  When we seek God first what happens to us?  The bible stated in Matt. 6:: 34 that every other thing shall be added to us.  So it is advised that we should  seek God's kingdom and do His will so that every other things will be added unto us.
Happy Reading and viewing.  Remember seek wisdom and get understanding of the secret things of God.
Your comments and suggestions are highly welcomed.   Please don't fail to Sign Up Here and I shall be willing to respond to you.
Your friend,
LJacob