Introduction
WordPress is a software used by several high and lesser organizations to manage their businesses.  Before you can start or venture into any kind of business, you must have a solid foundation and for such a foundation to be built, you will need a WordPress platform where your business will be built upon using a domain name.
Sometimes you can decide to build on your own purchased domain or on another person's domain.  WordPress Is like a Word Processing software but differs a bit in that while you need a niche as well as a domain name to manage Word Press, you do not need any domain to manage a Word Processing software.
What is a Domain Name?
A domain Name is that part of a network address that identifies it as belonging to you.  Domain name(s) is/are easy to be remembered words that one can use to communicate to a DNS (Domain Name System) server the website we want to visit.  Such words are :  .com, .org, .net, .edu , and so on.  An example is my website : getwisdoms.com.  
Where can you Get a Domain Name?
There are many areas you can get  domain names from.  Before you acquire a domain name, you must have a niche.  What is a Niche and where can you acquire a Niche?  The best definition for a niche is this given in Merriam Webster Dictionary as "a place, employment, status, or activity for which a person or thing is best fitted" for example, she has finally found her niche.
A niche is an activity, if employment something you are passionate about that you can conveniently share or write about or do and which can be sold or shared to a particular group of people.   For example if you want to work on children apparels, it is not everyone that will be interested in that.  Even when they are interested you cannot buy from you because they may not have the need for such products.
Think of anything you are good at, be it photography, catering, sports etc and create a niche that will enable you to reach a particular group of people interested in that field of choice.  Now that you know what a niche is, where can you easily access one or more without bordering yourself on how to create one.
This takes us to Jaaxy- a platform where creation and management of Niches, domains, Site Ranks, Competition and other vital issues are taken care of.  Let's dig into them on a step by step basis.
For a Niche creation, Jaaxy through its Alphabet Soup gives you tons of thousands of evergreen niches that you can select from.  Jaaxy gives you the opportunity to do so many  things when you Sign Up first for a free trial.   You will encounter things like:
Niche Research using the Alphabet soup platform that you can find, access and dominate.  You will have access or the ability to check out hottest trends of niches to finding relevant but different searches that will enable you to generate brand new niche ideas in a matter of seconds.  Why not take a chance and Sign Up for free here to find out its capabilities yourself.
Jaaxy enables you to have access to a Brainstorming feature that will allow you to dissect hottest products, information as well as search recent trends.  Using Jaaxy will lead you to incredible new opportunities and ability to stay in tune across many different niches.
With Jaaxy, you could also search for and uncover lucrative Affiliate Programs that will create passive income or open up new stream of income for you.  Why not take the opportunity here to sign up.
With Jaaxy, you can have access to billions of keywords that you can leverage.  It digs deeper to get you the keyword that will suit your passion or need.  Even when you cannot think of any, going through its billions of keywords; you will definitely arrived at something you are passionate about(whatever you are passionate about is called a Niche).  Something you don't have to think too much about.  Get the opportunity through this review here.  Jaaxy will save you hours per week on your research activities giving you more time to delve into other aspects of your business.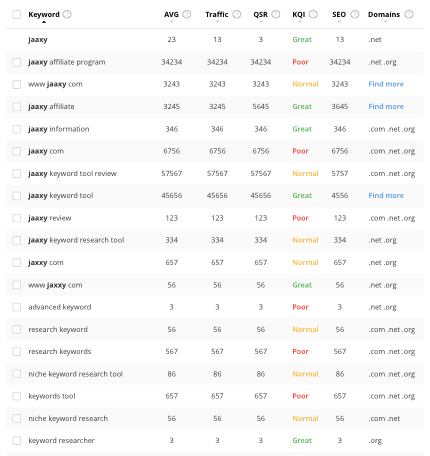 You can use Jaaxy to beat other competitors in keyword research market.  Jaaxy is efficient, fast and has powerful keyword data.  No matter the nature or kind of your business – be it internet marketing,  a local marketing company, an SEO  firm etc; looking to get access to keywords for your business – Jaaxy is your sure answer.  Jaaxy enables you to have traffic, competition, QSR, Ranking and domain data for billions of search terms.
You also have the ability to perform up to five searches at once with the multi-threaded Search functions.  Jaaxy is the most powerful, accurate and robust keyword research platform on the Internet market.  And it is always evolving hence on top of all keyword search competitions.
Jaaxy enables you to have 99.7% Search Engine coverage.  You will ask how?  This is because Google, Bing and Yahoo data are pulled directly within Jaaxy making you to have a 99% keyword and their associated data coverage for all searches.   And as you can see, these three search engines alone covers over 99% of all search traffic online, hence you will have unparalleled access to all search engine data.
Jaaxy also helps you to manage, save, store, share and export your keyword research activities and also leverage data for your own personal or business insights and hand them over to your marketing and content development team.
Jaaxy gives you the opportunity to scan through and identify where your site is ranked within 1.8 seconds for any keyword search.  This was a difficult trend before but now with Jaaxy, you can determine what activities can lead your site to high rankings through the searches and which ones may not be.
With Jaaxy, you can set up your campaigns to track your rankings.  You can also choose the frequency in which to track and it is completely hands on free.  As your website goes up and down, you are notified within the platform and you will be able to use your historical ranking trends to master you SEO.
You can track  as well as monitor your website authority, use Site Rank, and automatically leverage the historical tracking graphs to track your website rankings over  periods of time.  Having this bird's eye view of all your rankings and SEO activities helps you to understand your website ranking trends.
So where can you find easy to be accessed Domains?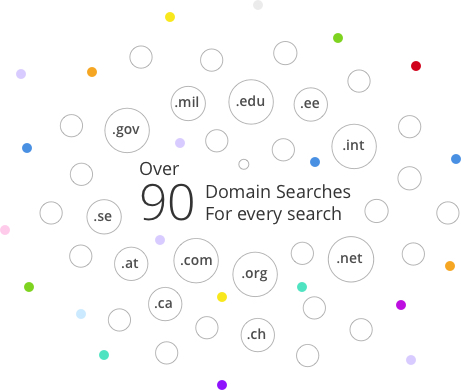 Jaaxy will enable you to search for available domains instanta.   Such domains as .com, .org, .net, are all available with the given keyword.  Average search will reveal many high traffic, high value domains with an average of 90 domains being checked with every search.  Jaaxy is the quickest and most powerful way to come up with valuable domains.  Click here to access it.  It is very affordable.
Price
See table below for different types and their prices as well as their functions:
JAAXY STARTER

$0 PER MONTH

JAAXY LITE

  $0/MONTH

NO FEE TO WA PREMIUM

JAAXY PRO

  $19 PER MONTH

(BILLED ONCE A MONTH

JAAXY ENTERPRISE

  $49/MONTH

(BILLED ONCE A MONTH

30 Keyword searches
Unlimited Keyword searches
Unlimited Keyword searches
Unlimited Keyword searches
20 Keyword Results
25 Keyword Results
30 keyword Results
35 Keyword Results
2 Saved Keyword lists
25 Saved Keyword lists
Unlimited Saved Keyword lists
Unlimited Saved Keyword lists
30 SiteRank Scans
100 SiteRank Scans
2,000 SiteRank Scans
10,000 SiteRank Scans
5/Letter Alphabet Soup results
10/letter Alphabet Soup results
15/Letter Alphabet Soup results
50/Letter Alphabet Soup results
Advanced Features
Advanced Features
Advanced Features
Advanced Features
–          Manual QSR (Competition)
Manual QSR (Competition)
Manual QSR (Competition)
Instant QSR (Competition)
–
Manual Domain Availability
Manual Domain Availability
Instant Domain Availability
–
Affiliate Program Search
Affiliate Program Search
Affiliate Program Search
–
Sort Keyword Data
Sort Keyword Data
Sort Keyword Data
–
Brainstorm Platform
Brainstorm Platform
–
3x Multi-tabbed KW Search
5x Multi-tabbed KW search
–
SiteRank Tracking
SiteRank Tracking
As indicated in the first box of the table, You can  be a Starter with zero dollar and if interested in becoming a wealthy Affiliate member (See my Thorough Review here) and after your trial period get upgraded to a Premium membership, you can still upgrade in Jaaxy to Jaaxy Lite.  You also see all you can have access to on the table.  And if you intend to get more access to other tools, you go pro and enterprise levels were you are expected to pay $19 or $49 monthly.  As you can see, Jaaxy is truly a nice tool to depend on giving all the services it renders.
You can save your domain lists, buy up domain assets as you do in real estate portfolio to make a lucrative business based on domain portfolio.  Easily access and purchase your domain at  Site Domains platform at Wealthy Affiliate here.  If you want to know more about Wealthy Affiliate see my Thorough Review here.  You can save, store and buy in bulk and later sell it/them out for a fee.  Don't forget to sign up here and get your niche as well as your domain and head over to WordPress to start the building of your website and of course your business for the consumption of the whole wide world.
What is WordPress and when was it created?
WordPress is an open source software that enables everyone to have access to its usage, study and you can redistribute its source code.  It is usually free to use.  What is open source and why is it free when it is checked based on its importance in website creation?
An open source is a term used to describe computer programs with their source code available for everyone to study.  It is an open source community project where tens of thousands of talented people make contributions to make it what it is today.
Although there remains a core team of developers that lead the projects, yet anyone is allowed to contribute patches, report bugs, suggest features etc to the team.  Also project leaders are changed from one version to another.  If anyone gets involved into the community, you can easily become a core contributor to WordPress hence it is free.
WordPress came into existence in the year 2003 when the already popular b2/cafelog was discontinued by its main developers.  It took two passionate users of this b2/cafelog to bring WordPress into being.  These two passionate users are Matt Mullenweg and Mike Little in that year.  WordPress has since then evolved in so many ways.
WordPress is of two different types and it is important we identify the two different types as to ascertain which to use and for what purpose(s).
WordPress platform has WordPress.com and WordPress.org.   WordPress is the same thing as WordPress.org and it is the popular opensource content management system (CMS) we talk mostly about and use  for content management and publication to the world.  This is the one we shall concentrate our discussion on later in the follow-up of this write-up.
While WordPress.com is built on top of WordPress.   It has a different user interface – ie streamlined and simplified interface.  It is a website builder- so you can see that WordPress platform is a very important space or platform to work with or in.  Unlike most website builders, WordPress.com is not a drag and drop, visual editor but it is a form-based editor that separates the content of pages from the design.
WordPress.com inherit blogging features from WordPress making it to have the best blogging features of any website builder.  Although this is not without competition from Squarespace.
There are so many plugins for different things be it in podcasts, membership system etc.  WordPress.com enables you to install these plugins (especially when paying fees for them).  For you to configure any of these plugins – you have to use WordPress-Admin.  This is the unfriendly interface and in order to avoid it, WordPress.com came into being with a different interface from the start.
At the end WordPress.com tries to do two things; To simplify WordPress as to let users leverage the awesome power of WordPress plugins and themes.
Features of WordPress.com  where you can also build your site:
Blog:  It is packed with excellent features such as Tags, categories, drafts, post in the future, featured images, automatic post sharing, custom permalinks and lots more.  One of its best part is that you can add a team of writers who can all contribute to your blog.  WordPress.com has the best blogging of any website builder but not without its major competitor Squarespace.
E-Commerce: A flexible promotions editor that allows you to add discounts and coupons that apply when certain rules are met.  Products are categorized and also have variations.  You cannot customize emails and receipts sent to customers and no digital products.
Form Builder: Contact Form 7 is the plugin to install if you want to have a form builder.  There exists some options for different fields such as checkbox, drop-down, radio textarea etc, though no field for file uploads.  You can customize email add form results that are sent but you cannot customize the "successful form submission" message or choose where to send visitors after filling out the form except through the WP-Admin.
ios and Android Apps:  These let you check analytics, write blog post and respond to comments.
Retina Ready: This displays images that are sharp and crisp on the retina and high resolution devices
Newsletter: There exist a mailchimp for WP Plugin that allow you to connect to the mailchimp and create Sign Up forms.
Membership system:  You can install "BuddyPress", a popular WP Membership system plugin.  Buddy Press gives you the tools you need to build a full social network.  Plus there are extensions that let you customize it.  This also requires you to wade into WP-Admin.
Donations:  You can install "Give", a 3rd party donations plugin which include donor management and powerful donation forms (with suggested amounts, goal-matching and more).  No website builder can come close to matching the features of it.  As it is a 3rd party plugin, many features have to be purchased as 'Add-on' that you will pay for separately.  Like most WordPress.com plugins, you will wade into WP-Admin to use "Give".
Audio Player: 'Compact' is a plugin that can embed an audio file into posts and pages
Podcasts:  'Blubrry' is a WP plugin to install to add a podcast feed to your website.  It has multiple audio players, embeddable subscribe widgets and more.  Like most WP.com plugins, wade into the WP-Admin to use it.
Note:  It has no plugin for Restaurant Menu, Multi-lingual language and no plugin for designs that will enable you to start from scratch, but they have themes up to 294 that you can effectively apply to you website and the theme are responsive too.
Cons of WordPress.com
The theme is not separated from the content.
Their billing practices not ideal in that though they specify monthly billing, this is not carried out but rather annual billing is practiced.  So keep in mind if you choose to use WP.com to build your website, keep in mind you will be billed per annum.
I don't see this as a problem because that is the common practice with most site builders.  It is always billed annually even their renewal policies are annually
For the WordPress.org where most blogging work is carried out; we shall extensively delve into it in our follow- up issue.  Remain connected with getwisdoms.com as I bring your way more articles for your reading pleasure.  You want to learn to approve yourself a workman that will never be ashamed, then Join me here to commence a successful journey to freedom and wealth creation.
Kindly leave your comments, suggestions, questions  and I will be happy to respond to you.  Happy viewing.
Cheers
Your friend
LJacob.